E-commerce business is a popular business nowadays. Of the 24 million eCommerce sites worldwide, 1.3 million are in the United States (the last reported in 2020). From this, we can fully understand that the eCommerce business is much more popular all over the world including the rich countries of the world.
Today we will know about the top 5 eCommerce businesses in the USA. These 5 eCommerce websites are known as the best websites of the present time.
Table of contents
Fastest-Growing Ecommerce Pages or Businesses in The United States

1. DHgate
2. Zaful
3. IPSY
4. The Mint Julep Boutique
5. Rotita

Now let's take a look at how to start an e-commerce business in the USA?
How to Register eCommerce Business in The USA
Before Starting eCommerce Business You Have to Know 7 Thinks

1. Opportunities are vast
2. Marketing is king
3. Your Customers Should Not Be Everyone
4. Pre-launch
5. Differentiation
6. Creating a Story Around That Brand
7. Customer Service is Key
Fastest-Growing Ecommerce Pages or Businesses in The United States
1. DHgate
DHgate is an eCommerce organization dealing with wholesale products. They supply their products all over the world. The company started its business in 2009. And they are now successful organizations. They have a large fan following on Facebook – close to 3.5 million. Looking at their Facebook fan followers, it is clear how fast their business has grown.
Below is a follower chart for them –
2. Zaful
Zaful is the only business of a fashionable product. This e-commerce business sells its products at more affordable prices. They have very fashionable products available. Anyone can buy all the attractive products that are great for both men and women at very affordable prices.
The company is owned by Hong Kong Bian Information Technology Com. Zaful supplies its products worldwide. This e-Commerce is more popular with girls. Because most of their products are girl-centered.
Their website has 4.6 million monthly visitors globally. Their global ranking is 9559 and their ranking in the USA is 6693.
Below is the picture:
They have followers on Facebook – more than 6 million. Nearly 9 million. This eCommerce business has grown its business very fast. Below is a chart of their fan followers:
3. IPSY
IPSY is their e-commerce company with beauty, cosmetic & personal care. They have these 3 categories of products available all the time. They currently have their products delivered in the USA and Canada. They are planning to deliver the product worldwide very soon.
Their business has grown more in a very short time. They are now successful businesses in the USA as an e-commerce business. Their website currently has 13 million monthly visitors. Worldwide their e-commerce website is ranked – 4465th position and in the USA – 925th position. Which can be called a very valid ranking. Below is another chart –
Their social media also has a lot of fan followers and many positive reviews. They currently have countless happy customers. They have 5.8 million fans on Facebook. Below is the picture:
4. The Mint Julep Boutique
The Mint Julep Boutique has established its e-commerce business with fashionable things for girl's fashion. They started their business in 2012 and are now successful in the e-commerce business. Their business is at the heart of success – their huge fan followers on social media. And their value-added service keeps their customers attached to them.
They currently supply their products to 50 states in the USA. You can find out their shipping policy through their website.
The Mint Julep Boutique is one of the fastest-growing e-commerce businesses in the USA. Their website has monthly visitors – 224.20K. Below is the picture:
They also have fan followers on Facebook. They currently have 4 million fans. Below is a graph:
mint fans chart
5. Rotita
Rotita is a popular e-commerce website in the United States. They are selling a variety of fashionable dresses all over the world. They started their business in 2014. Today they are the successful e-commerce business of the United States. They have countless happy customers all over the world.
Their website receives 3.60 million monthly visitors from all over the world. It is a very admirable visitor at constant. With such a large number of visitors, they have achieved great success in the e-commerce business in a very short period of time. Below is a graph of their website visitors:
It's not just that regular visitors come to their website. They also have a huge fan following on social media. They currently have 3.4 million Facebook fans. Below is a graph of their fan followers: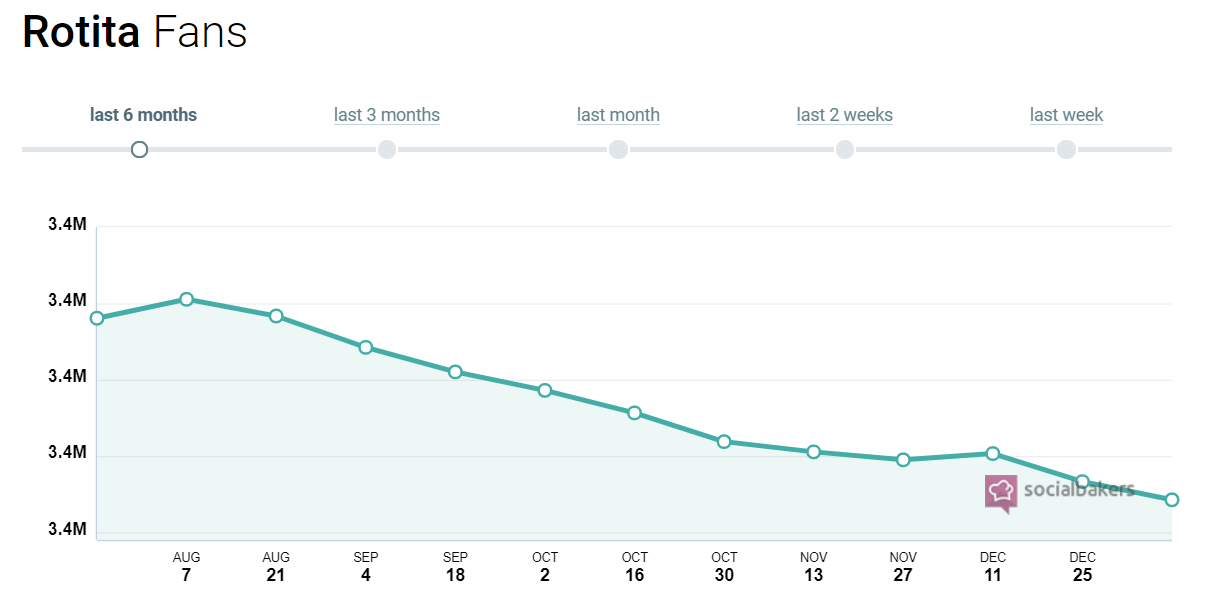 Now let's take a look at how to start an e-commerce business in the USA?
You must select a niche before starting any e-commerce business. Because it is very important to work with a niche or what kind of product. So first you have to select a niche.
Then you have to choose your business name. The website domain must be chosen. The domain must be business-related. A business-related legal structure should be created.
At this stage, you have to apply for an employer identification number (EIN). And then you have to get a business license and permits. This is very important. The business would not be legal without it.
After completing the official activities, the main foundation of the business at this stage is to build an e-commerce website. Of course, the website is very attractive and must be user-friendly. Website speed needs to be increased to rank the website very quickly.
Once the website is finished, your business must do marketing to the consumer. Because after starting a business, if it is not marketed, then no one will know your business, and the business will not grow.
So marketing has to be done in a very good way. For this, you can create profiles on different social media. There are also many platforms where paid promotions can be done, including paid promotions – Facebook ads, Google ads, etc.
If we now summarize the whole matter, then it stands:
1. Select your desired niche
2. Choose a business name and select your domain
3. Get an EIN or legal license for your business
4. Create a website (Must be attractive and user-friendly)
5. Promote your business
How to Register eCommerce Business in The USA
The process of registering an e-commerce business is the same in all countries. There may be slight differences but the boot maximum rules are the same. So, let's take a look at how to register an e-commerce business in the United States.
First, you need to come up with a perfect business plan. Then you need to get a license to legalize your business. Which we call the employer identification number (EIN).
Determine the legal framework – for example, whether you are a sole proprietorship or limited liability corporation. Details of your business activities. Sell a tax license, which you can get from your own state agency. Inspection and other permissions such as liquor license or fire code inspection.
All in all, to legalize your business, you need to start an e-commerce business by following official or government-issued rules and regulations.
Before Starting eCommerce Business You Have to Know 7 Thinks
The seven belongings you absolutely need to know before starting a successful eCommerce business. That'll bring great profits. If you follow these tips, I guarantee you that you'll have a better vision for a more successful launch and a long-lasting company that pays you for years and years. You need to know about eCommerce. Anyway, here are 7 things you must know:
1. Opportunities are vast
A lot of people think that e-commerce is oversaturated and that it'd be impossible for them. To start up a successful business the reality is that yes, it's harder to start out an e-commerce business. five years ago there have lots of opportunities but there is still so much more opportunity available and I really want to make this point clear.
Because I think a lot of people are on the edge of starting a business but just never follow through with it because they get discouraged. Let's take a look at this chart –
Which shows the e-commerce share of total global retail sales from 2015 all the way to 2023. As you'll see e-commerce has been growing very very strongly since 2015. With the year-to-year growth getting higher and higher. There is more opportunity than before.
There are numerous different opportunities in this field. And I suggest you if you're interested in e-commerce in any way do some more research into this business model.
It's such a great way to make money and it's not just us. Global eCommerce sales will top 4 trillion dollars in 2020 and reach 6.5 trillion dollars by the year 2021. Every retailer is shifting more and more.
there's a never-ending and growing group of individuals who buy everything online. So take advantage of this. All right next up is the fact that –
2. Marketing is king
This is the stuff that you really should know yourself before you hire it out to other people. First, there are many ways to plug in and obtain sales and it is a field that's always evolving.
So you constantly need to be experimenting or learning. In order to get the best ROI return on your investment.
Now, why is marketing so important? I think the main factor is visibility. Without visibility, no one will buy your product. Because no one will see and no one will know that it exists. It could literally be the best product in the world but without adequate marketing, it's going to be very hard to succeed. There are two types of marketing.
The primary is to – Raise brand awareness and.
The second is to – increase your sales.
You want to have a marketing plan and this marketing plan totally depends on your type of business and product for a few Instagram influencer marketing could be the simplest ROI. For some YouTube ads, google ads, sponsored posts, social media, those could be a lot better.
It does involve a good degree of trial and error. So, you've got to enter with the expectation that. The first few dollars that you spend on marketing aren't going to fully work out.
But if you keep trying and trying you will stumble upon a type of marketing strategy that works for your brand or company.
A mentor will for sure help and a marketing agency would be great. But that's only if you have the money to spend. There's gonna be a time where every dollar you put into your marketing.
3. Your Customers Should Not Be Everyone
This is a very important part because I think that a lot of new e-commerce people think that if they make a product that appeals to everyone. Then everyone will want to buy it.
The truth however is that if you have a product that appeals to everyone that product will likely only appeal to everyone. There is a certain tipping point or a hump that the customer has got to recover from.
Labeling is a niche product this is a type of product that you don't think that there would be too much demand for. But there actually is so when you are creating your first product. Just note that it does not need to appeal to everyone and like I said before it actually should not appeal to everyone.
It should be a product that clearly fits the bill for a little group of individuals. Like, for example – a rose, gold, rimmed, plastic cups, or a journal with specific prompts or questions that only a small subset of people would like aiming your product.
A smaller audience also helps with your marketing return on investment. No one has enough money to market to everyone in the world. So, don't even think about it.
A specific crowd of people and for most, the narrower, this crowd is the better not only does it make your marketing budget smaller but also makes it far more effective. And it makes your conversion gateway better as well.
So, think about your gold buyer. Their age, their demographics, their interest, their location, their gender, their values, and that is something you need to have in mind.
When developing that product if you can pinpoint a certain type of person that is most likely to buy a product. Then that is a great sign.
The next thing I want to talk about is the fact that your –
4. Pre-launch
Pre-launch is more important than you think. A lot of people think that if they make a good product then sales will start flowing at the moment, they launch it. However, you guys this is just not true.
There are just too many different products, brands, or services in the world. The fact is that without a proper pre-launch strategy no one is going to buy your product.
On the first day, it's launched one crucial thing that a lot of companies miss is starting to market before they create. The product can be done by creating an audience, newsletter, website, or social media account.
Before the product is ready to sell a lot of successful e-commerce companies are started way after that initial audience is created.
This is why I'm such a big fan of personal branding. This is one of the most powerful ways to build an audience before you ever start a company. By having a successful personal brand you've got this pre-built audience.
Who's going to support whatever business you have in the future the same goes for a popular website or a social media account with a lot of followers.
As long as these accounts are targeted to specific interests then they should react pretty well to any future marketing for a company. That you create the sort ties into marketing. But this type of marketing is done way before. A product is made and even before a product is conceptualized.
This is the number one way to guarantee that your company has a successful launch and sees sales at the beginning. As you guessed my company charge did not have a good pre-launch strategy.
So on the first day we launched, I got zero sales all right. So the next thing on my list is when you find a product and you start building a product, you have to change at least one thing about it. This differentiating factor is perhaps getting to be tied to some sort of solution.
But I have to emphasize that you don't need to completely reinvent the wheel if you're trying to create a product. You know what you want to do is take an existing product. Ask yourself is there one thing that I can change about this that's getting to make it better.
It can be the price, the design, the color, dimensions, functionality, etc. we don't need more sellers selling the exact same product. What we do need is more sellers finding solutions to existing problems. Creating something that's a touch bit better than selling.
That is when you create real value and that is also when you can differentiate your product from the competition. So how do you do this?
Well, one of the best ways to do this is to look at reviews of the types of products you're trying to sell. Look for certain pain points or common feedback that you see in multiple reviews take that and use it as free market research for your type of product.
5. Differentiation
It essentially keeps your competition farther away and it's giving value to your customer. You aren't giving value to your customer. If you're selling them the exact same thing that everyone else sells but yours is a little bit different.
It matches their needs, a little bit better or is just an improved product. Overall, all the products I've ever sold in my entire life have always had some type of differentiating factor. I've done bundles, I've done different, dimensions and sizes that I assumed would work better.
This is often a crucial strategy that I definitely recommend implementing in your first e-commerce business. Because without it, your life is going to be a lot tougher. All right another thing that is imperative to the success of any brand. Especially its long-term success.
6. Creating a Story Around That Brand
I do know this sounds kind of cliche but storytelling plays such an important part in creating an identity. As well as an authentic relationship with the buyer not only helps with your brand loyalty but also helps with your marketing. So when you are marketing using a story or emotions this allows that ad or whatever it is.
You're using it to connect with the audience on a whole different level so that's really why I wish I knew this before. I started it would have changed the way that it helps the brand.
For instance – the motives the brand slogan and pictures and doubtless most significantly the website. For the website, I totally would have changed the way that I portrayed the brand. For example – my clothing company charged instead of selling.
The garments and the way great they were I should have tried to sell the story and knowledge of truly wearing the garments people wish to buy not only a product but also the story behind it. once they do participate within the story that makes an enormous win for you.
For example -take a look at the brand Patagonia who does such a good job at this their buyers completely feel like part of the brand. When they wear their clothes so this will not only boost your short-term growth.
Although you know it is harder to market initially with a story than just peer marketing. But it also ensures that your products and your brand last an extended time. A story is hard to create but it's like building equity in your company the stronger you get your story to be more efficient your marketing will be and hence you will have a better return on investment.
It also encourages people to share the story and the brand this word of mouth will pay huge dividends throughout the course of your business alright the last thing you guys need to know before starting your e-commerce business is that.
7. Customer Service is Key
If you're taking a glance at a number of the foremost successful e-commerce businesses one key reason – why they succeed is? Because of their customer service.
For example – take a look at Zappos
Their CEO Tony. 75% of their purchases are from returning customers. So you can see that they are extremely loyal and also about 44% of the customers heard about them through word of mouth.
A huge contributor to this is how they treat their customers. Their CEO Tony Shea is known for his unconventional approach to customer service.
He has said that his goal with customer service isn't to save lots of money and it isn't to be highly efficient instead of the sole metric. He uses is how happy and the way satisfied that customer is.
You know lots of businesses just don't prioritize customer satisfaction. As well as any customer service representatives that you hire in the future, you have to train them well and you have to make the priority of top-notch customer service.
Extremely clear guarantee you that any of those extra minutes you spend making the customer happy or any extra dollars you spend making them happy will pay off in the long run. Plus, it's just a far better way of running a business.
So you need to know before starting your own eCommerce business. It's not easy and it certainly takes a lot of time to set up any good business. But the more you wait the harder it's getting to be.
So, you know I just really encourage you guys to take that leap and learn from the process. I'm so grateful that I took the chances with my own e-commerce businesses and yes some of them have failed and some of them have been successful.
So today we got an idea about e-commerce business and learned about the top 5 e-commerce businesses in the United States. Those who have made their business successful very quickly in many other countries of the world including the USA.
Thank you so much for reading this article patiently for so long. Our website has many more informative articles about business, you can see if you want.